Got some more work done at Reid's this afternoon. Cut the second side and the top of the cab…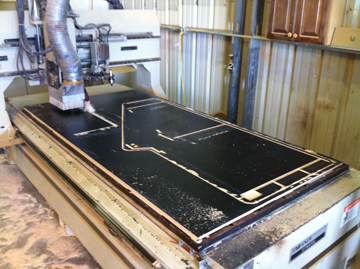 We also cut the control panel. This required cutting the through holes and routing out for the T-nuts from the top side and at the same time cutting out a hole in the material the exact same size as the control panel. Then we flipped the control panel over and put it in the other hole and routed out the spaces for the joysticks and the trackball on the underside. This ensures that the routing on both side matches up.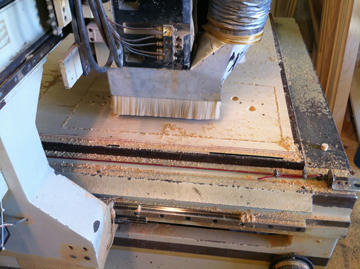 So I get the CP home and start fitting things into it and low and behold the joysticks will not fit into the recesses on the underside. I'm not really sure where I messed up. I thought I had measured the actual joystick bases, and I probably did, but I do not remember if I used those measurements on the CP layout. They are not off by much, but it is enough they won't go in. So we will have to cut another CP.