I managed to get a coin door from an original Atari Tempest cab. Actually, I now have several of the same model of coin door, but one of them I know for a fact came out of a Tempest machine. I took that door, cleaned it up and had it powder coated to look original. Then I cleaned up the backplate and coin mech parts and put it all back together. One of the other doors I found had orange coin return buttons, so I cleaned those up and installed my own graphics. Apply 12V and: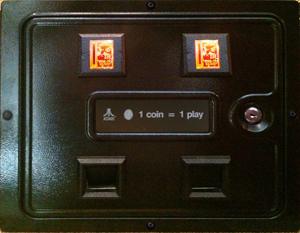 I'm very happy with it! I do not want to alter the wiring or hardware (love that I will be able to say it is an original Tempest coin door) so I needed to figure out the pinouts on the 24 pin Molex (4×6) connector. Using a multimeter I was able to pretty quickly determine:
Center Coin Switch
Right Coin Switch
Left Coin Switch
Reset ON & Momentary Switch
"Tilt" Switch
Switch Common (All Coin, Reset, Tilt)
Solenoid Common
Center Solenoid
Right Solenoid
Left Solenoid
Extra Counter A1
Extra Counter A2
Top Counter 1 (apply 6VDC either way to increment)
Top Counter 2
Bottom Counter 1 (apply 6VDC either way to increment)
Bottom Couter 2
Extra Counter B1
Extra Counter B2
Coin Return Lights Power (12VDC)
Coin Return Lights GND
Not Used
Not Used
Chassis GND
Chassis GND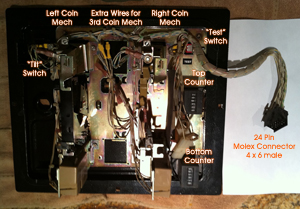 Currently I am using 12VDC incandescent bulbs that I bought at the auto parts store.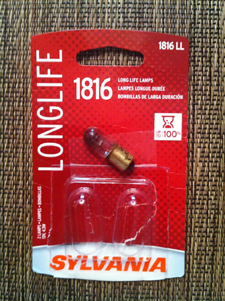 I have ordered LED bulbs that are packaged in a T3.25 Bayonet base. Both are orange, one is a dome covered package and the other is open. I will try them both and post the results of the comparison.
I will be using the "Test" switch as my free-play switch.