I just received my printed side art from Scott Prior at MameMarquees LLC. I could not be happier! As you can see for yourself: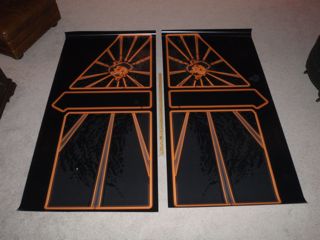 The object between the two panels is a yard stick. They are glorious! The black is glossy jet black. The orange neon really seems to be glowing! Wow!
Scott was easy to work with (I knew this as I already ordered and received my marquee and cpo from him) and the turn around was great. I messed up my order and actually ordered 2 sets of sideart instead of ordering two sides. Scott realized that I was not likely to actually need two sets, so he contacted me to make sure and then issued a refund for the second set.
MameMarquees LLC is the real deal. Thanks Scott!