The sound of a coin dropping into an arcade machine is unmistakable. When the Cowboy Arcade project began, I decided not to put a working coin mechanism into the cabinet. Two things changed….
First, my wife (who is not really excited about this thing in the first place) mentioned that if the kids had to use a quarter (or a token) to play the arcade, it would naturally limit the amount of time they spend on it and we would not have to be telling them to get off.
Second, I realized I would regret not being able to hear that sound!
So, BFG and I ordered a Single Front plate Assembly (40-0023-00P) from Happ,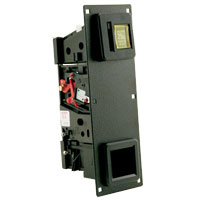 along with a Imonex $.25 & .984″ Token Coin Mech (42-2034-00) and an Amber Reject Button Assembly (42-0517-07). Once they arrived, I replaced the standard yellow button with the amber one and upgraded the graphic in the button at the same time.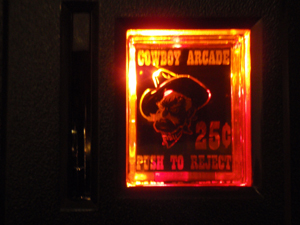 We think it looks great! If you are interested, I created the artwork for the button in Freehand (you could use any graphics program you want) and had it output to film at a local graphics place. A couple of cuts with a very sharp utility knife and it slid right into place. The film is completely opaque where it is black and really shows up well.