We decided some ambient lighting would be cool. A little research brought us to LEDGlow. We selected the expandable orange 4 pc. interior kit and got 2 sets. Each set comes with 4 – 15″ tubes with 30 LEDs in each tube. The reason we chose the expandable kit is that the individual light tubes plug into a receptacle instead of being hard wired into the controller, this is important later.
The lights came in and we couldn't wait to hook them to the  TripLite 12V power supply we got and try them out.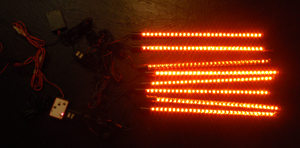 They are very bright and the controller allows you to choose from 7 different settings including a music setting complete with a sensitivity adjustment. The plan is to put the lights up both sides of the back of the cab and place the controllers where they can 'hear' the speakers so the ambient light pulses with the game sounds. The back of the cab is slightly recessed, so the lights themselves will not be visible from the front or side, but the glow will. The cab back is in two sections, so there will be 4 light tubes (2 per side) mounted on each section of the back. The wires will run together and then plug into the receptacle mounted inside. This way, the back can be removed and the lights unplugged to get to the inside of the cab without unwiring the lights.
Maybe we should look into hydraulics next…..