Went to Reid Cabinetry today and cut some wood! We were a little short on time so we only cut one side and some of the internal pieces, but it was a blast getting things going.
All my drawings are in PowerCADD, so I export DXF files and send them to one of my engineers. Dustin opens the files in AutoCADD and removes all the elements that are not related to a cutting path and makes sure all the lines connect and the path is continuous. He then saves the cleaned up drawing as a DXF. We send that file to Bryce and he imports it into his software to generate cutting paths and tool id info for the router table.
First we verified that we were cutting the right parts from the right material in the right orientation: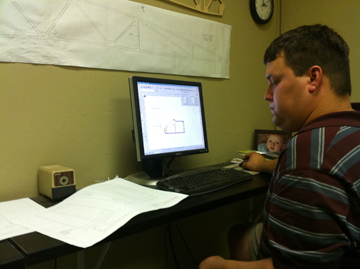 Then with the program sent to the router table we placed the material (5/8 birch ply laminated on the inside with black formica) on the table: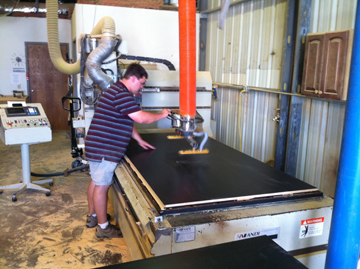 After Bryce set the tool depth and rechecked everything he pushed the button and the cutting started: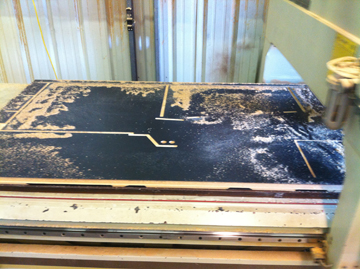 Once all the cutting was done you could see the various pieces still held in place by the vacuum: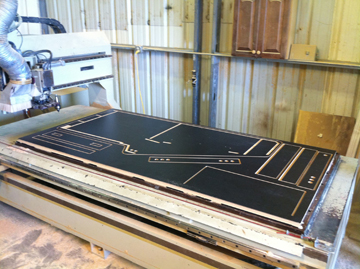 Then we separated everything and we could look at one side finished and ready to be assembled: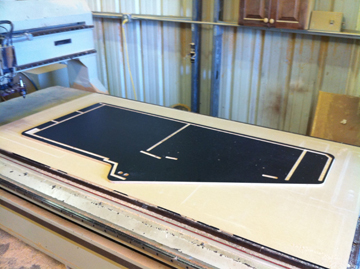 We are using angled cutters to cut the beveled edges of the pieces for below the CP and for the marquee light box. The edge is perfect and once we join the pieces together the finish and fit should be fantastic.
It was a great day for yummy arcade goodness! Stay tuned….