In life, control is an illusion, but in an arcade cab it is the key that unlocks all the doors.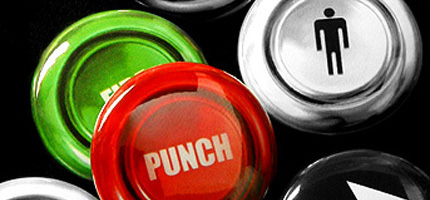 After reading about a thousand threads on ArcadeControls.com and studying John St. Clair's book, "Project Arcade", we decided on a two player control panel with an Perfect 360° optical joystick and 7 buttons (orange and lit) for each player. The cp will also have a trackball (lit), a spinner (black retro knob) and a dedicated 4-way joystick. Insert Coin and Start Game for Player 1 and Player 2 (both black with white imprints) will be joined by Exit and Pause as the admin buttons (both black). Right and left Flipper and Nudge buttons on the cab sides and a Plunger button in the front (all black) will allow pinball games to have a real feel. Finally, System Shutdown and a Reset button will be accessible but recessed and somewhat hidden.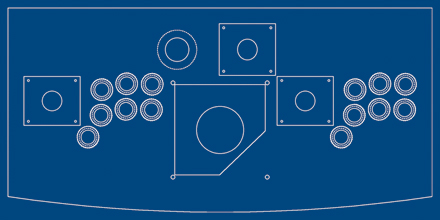 All these buttons and lights have to be interfaced with the computer. The trackball and spinner come pre-configured for USB connection. The three joysitcks and all the buttons will run through LED-Wiz+GP controllers. Each controller handles one set of axis inputs plus 12 buttons. three controllers take care of the 3 joysticks and 36 buttons. The Cowboy Arcade only has 26 buttons, so we are golden.
So the controls list and where the items are coming from looks like this:
from Lizardlick Amusements:
(14) IL Translucent Pushbutton (amber)
(10) Happ Comp Pushbutton (black)
(2) Happ Perfect 360 Joystick (black)
(1) Happ 1 Player Button (black w/ white imprint)
(1) Happ 2 Player Button (black w/ white imprint)
(1) Sanwa JLW-UM-8 Joystick (dedicated 4-way)(black)
from Groovy Game Gear:
(14) Button Blaster LED (white)
(3) LED-Wiz+GP IO Gaming Controller
(1) TurboTwist Spinner
(1) Electric Ice-T 3″ Trackball (w/ super high install kit)
from Happ Controls:
(1) Minature Round Pushbutton (red)
There has been a lot of discussion about 4 player games, steering wheels, fighter joysticks, and other possible controls. There are endless possibilities and the biggest danger to the Cowbay Arcade Project is that indecision will prevent the thing from ever getting built. So, we settled on the above controls on a single control panel. By making all controls USB and hot-switchable, there is always the possibility of adding additional controls later. The CP panel will be removable and all wiring will be through network style jacks. This idea is one we copied from Docs Modular MAME. Later, additional controls can be added as either plug in auxillary controllers or as replacement CPs.