Any MAME project worth it's salt needs a good sound system to faithfully (if not a little louder) reproduce the wonderful sounds that are so much a part of the 80's and 90's arcade experience.
After a little research we selected the Logitech Z-2300 2.1 Speaker system.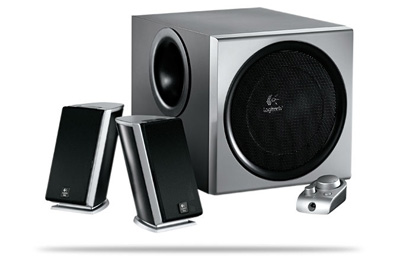 CNet.com reviewed these speakers and for the price said they were the best option. The only real negatives were the inability to adjust the upfiring satellites and that they are hardwired. Neither of these things is an issue for the Cowboy Arcade since the speakers can be mounted in the cab pointed in any direction, and they aren't going to be moved around, so hardwired is actually a positive.
The speaker grills are removable, so if they look good they will be flush mounted into the panel above the monitor as covers for the speaker holes. In the event the speakers ever fail, they can be replaced with any other similar speaker (since they will be completely inside the cab and not very sensitive in terms of space and shape) and the grills can be left as is. The sub-woofer will be placed in the bottom of the cab.
One of the reasons for choosing a speaker set like the Z-2300 is the wired remote that allows for volume, base adjustment, and headphone. These controls will be repotted and switched and built into the cab also.